The best of Goa Trance - top artists, albums and tracks
Submitted by karan129 on Sun, 10/14/2007 - 04:13
Tags:
---------------------------------------------------------------------------------------------------
This page has moved. Please go to http://www.karangill.com/the-best-of-goa-trance---top--artists-albums-and-tracks.html.
---------------------------------------------------------------------------------------------------
Goa Trance
Trance in its Purest Form
This is a collation of the best tracks and albums of my favourite genre Goa Trance! Its a great introduction to the genre. There don't seem to be any Goa Trance specific lists on the web despite the "Goa sound" being distinct from mainstream trance, so I came up with this. All feedback is welcome though I warn you I'm totally biased in favour of Goa Trance as the best musical genre ever :P NOTE that this is a broad overview to the genre, so I've tried to keep bias out of it and included albums that mayn't be to my taste but are well regarded by others. If you're new to Goa trance, it may be easier for you to go through this short list first which has a complimentary torrent.
If you are a repeat visitor to this page, remember that new additions are always highlighted the way this line is.
If you feel I've missed out any noteworthy tracks, or have any other feedback in mind, don't hesitate to drop a reply.
First some QnAs on Goa Trance and this guide. If you know what Goa is then you can skip to the album list.
Q. Aaaaargh! I'm not going to listen to all this. Give me the 3 top albums! Why can't you put them in best to least best order so I know what I should listen to first?!!
A. Here is a short list of the best Goa tracks.
Its too difficult to arrange all this stuff in order. I ask you, which is best, Twisted, Trust in Trance or Alien Protein? Or maybe Lets Turn On, or Cosmology? Because I haven't the faintest idea. However, I have included some album descriptions which will help you decide what you want to check out first.
Ok, 3 albums you must get before anything else:
Hallucinogen - Twisted
Astral Projection - Trust in Trance
Etnica - Alien Protein
For a general flavour of Goa you can try getting Dragonfly presents: A Voyage into Trance mixed by Paul Oakenfold
Q. Whats the history behind Goa Trance?
A. Goa Trance is a subgenre of trance that originated in Goa, India stemming from the hippie influence. It had its roots in psyrock and the mid-80s electronic music in Europe. Goa Trance was also called "Trance Dance", hence the names of the Astral Projection and Cosmosis tracks. It slowly morphed into Psychedelic Trance around the turn of the millenium, and today there isn't much Goa Trance produced.
Here is a map of all the sub genres of psy and goa trance by Anoebis of Psynews. It was originally posted here. You can't see the whole thing properly so save it to your computer and then open it and zoom into the top left corner which shows Goa and its sub-genres.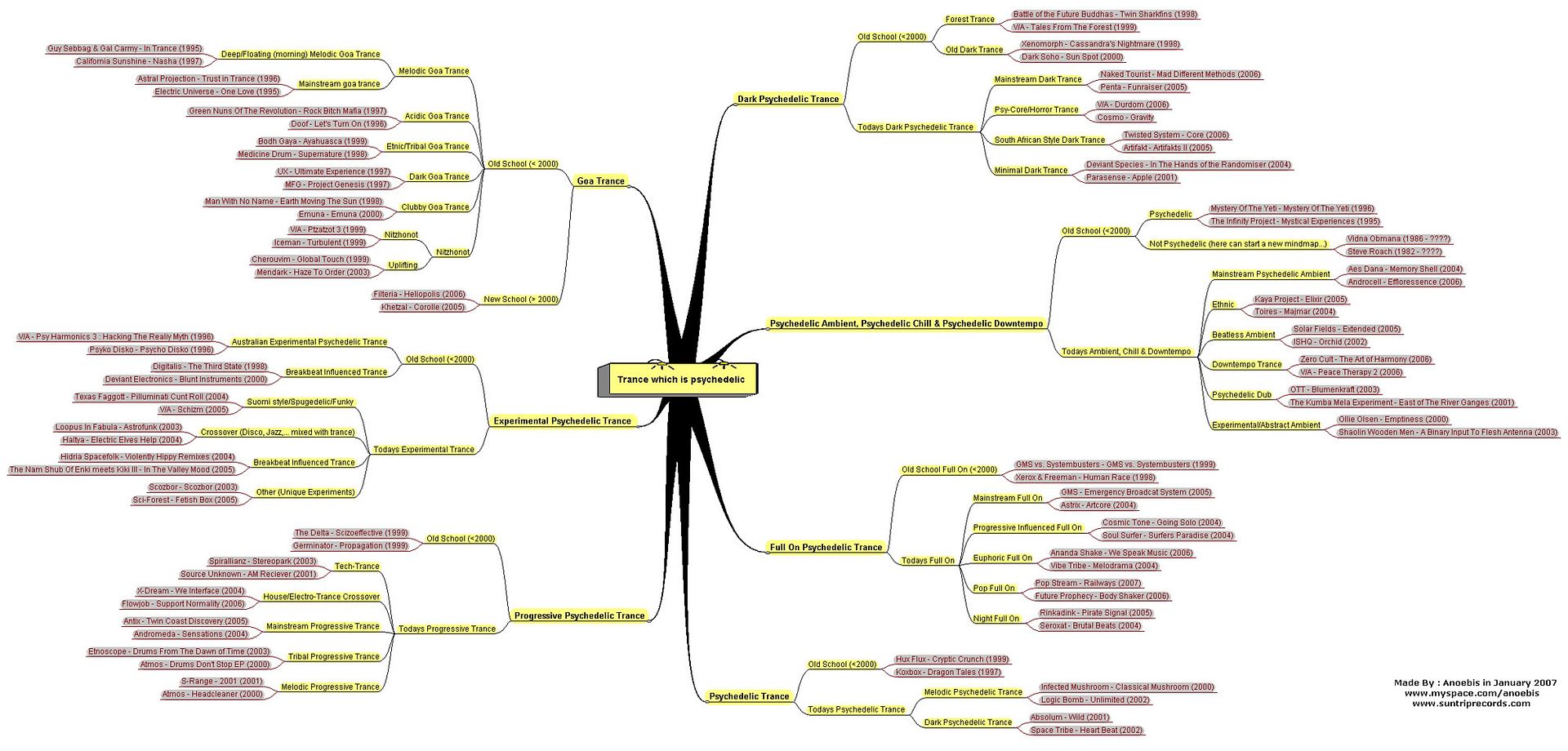 Goa is a small (by Indian standards) state halfway down India's western coastline which was a Portugese colony for hundreds of years. It still retains signs of Portugese influence, evident in the beautiful churches you'll find there, which makes it distinct from the rest of India in general. Perhaps this made the Goans more tolerant of hippies. Till the mid-70s hashish was legal and this coupled with the beautiful beaches and the freedom attracted them. Anyway, till the early 90s, no one really cared about the drugs. Then the police started cracking down and the scene shifted to other countries while Goa became a magnet for the usual tourist crowd.
Two albums which kicked the scene off were:
Project II Trance from way back in '93.
Order Odonata Volume 1 from '94.
----------------------------------------------------------------------------------------------
This page has moved. For the full article go to http://www.karangill.com/the-best-of-goa-trance---top--artists-albums-and-tracks.html.
-----------------------------------------------------------------------------------------------