John Lennon Discography (In Progress)
Submitted by CaptMal on Mon, 05/31/2010 - 18:10
Tags:
Note: Just for fun, I rated each song on each album out of 10 and then averaged the overall album score. This is a valid yet flawed way to look at these albums; after all, simply rating each song and conflating the hard data doesn't account for the spirit an album can have as a cohesive work. Anyway, just a fun way to look at an artist's body of work.
Note 2: Before the Beatles broke up, John Lennon released three albums of experimental music with Yoko Ono. Unfinished Music No. 1: Two Virgins (1968) is actually okay if you're as hardcore into either artist as I am, provided your headphones are on; Unfinished Music No. 2: Life with the Lions (1969) is nigh unlistenable, not so much because it's unbearably awful but because it's so goddamn pointless and boring; and I actually liked Wedding Album (1969), though that was before I found out the pieces I liked best were all bonus tracks. For the purposes of this article, I'm just gonna stick with John's proper studio recordings. How could I rate "Baby's Hearbeat," anyway?
JOHN LENNON/PLASTIC ONO BAND (1970)
Mother - 10
Hold On - 10
I Found Out - 10
Working Class Hero - 10
Isolation - 10
Remember - 9
Love - 9
Well Well Well - 10
Look at Me - 10
God - 10
My Mummy's Dead - 10
OVERALL = 9.8/10
After the Beatles broke up, John Lennon and his wife Yoko Ono (perhaps the most unfairly reviled woman of the 20th century) underwent primal scream therapy with Dr. Arthur Janov. All of Lennon's repressed anger and deep-seated pain were brought to the surface, and issues that he had rarely dealt with as a Beatle (a song like The White Album's "Julia" being an exception) were at the forefront of John Lennon/Plastic Ono Band, the most emotionally powerful album ever recorded. Stripped of the innovative, freewheeling production George Martin had employed with the Beatles, the music sounds little like what John had done before, or what producer Phil Spector had done, for that matter. Spector, known for his lush, Wall of Sound "pocket symphonies," gave the polar opposite treatment to Plastic Ono Band. The music is not densely layered: John's rough, dirty guitar; fellow ex-Beatle Ringo Starr's heavy, pounding drums; and Klaus Voormann's simple, roiling bass are all direct and upfront.
The album starts off with funereal gongs, leading into one of John's best vocal performances, "Mother," a harrowing song mourning the death of his mother and the absence of his father: "Mama, don't go/Daddy, come home." These childhood traumas left gaping psychological wounds, and here John begins to sew them back up. The sweltering screams he unleashes near the end are chilling and unforgettable. Taking a cue from Yoko, who recorded a similarly cathartic album with the same band, he also delivers some pretty hair-raising wails on "Well, Well, Well," one of his most furious rockers. "Isolation" is another spine-chilling indictment, with the breathtaking middle verse, "I don't expect you to understand/After you've caused so much pain/But then again, you're not to blame/You're just a human/A victim of the insane." John's double-tracked vocal is soaring, searing. "I Found Out" too is a brutal rocker, funky and with some hot guitar. "Remember" is the album's other ferocious attack, less indelible than the others but no less stinging and haunting.
But not everything is expressed with a scream. There are softer, gentler songs which are no less commanding. "Hold On" is a quiet urging to himself and Yoko that everything's gonna be all right, with some of my favorite guitar on the record and a break where John impersonates Cookie Monster. On "Love," John contemplates what love even is, his tender vocal and restrained strumming backed only by Spector's heavenly piano. In the end, his conclusion is perhaps the most accurate assessment of love ever placed in the confines of a pop song: "Love is needing to be loved." "Look at Me" has John pondering who he is and begging his love to look at him. His guitar playing strikes very close to his poignant work on "Julia," and emotionally and philosophically, it's just as intricate.
"Working Class Hero" and "God" are the album's two most iconic cuts, and it's a toss-up as to which is better. "Working Class Hero" is an anthem for the hard-working, taunted, neglected, and disposessed. John may have been a superstar in 1970, but just seven years earlier he had been working class and the experience still scars him. It's a scathing attack on those who boss around and belittle, as well as those who foist "religion, sex, or TV" on the public as a means to an end. "God," on the other hand, finds John discarding everyone and everything except for himself and Yoko. Preceding the infamous statement, "I don't believe in Beatles" is a litany of other things John no longer believes in, including Jesus, Hitler, Buddha, yoga, kings, Kennedy, and Elvis. Billy Preston, who added so much to the Beatles' Let It Be, does his best, most precise piano playing here. The second half of the song delivers the final nail in the 60's coffin, a heartbreaking expression of vulnerability and moving on, "I was the walrus/But now I'm John/And so, dear friends/We'll just have to carry on/The dream is over."
The album ends with what I've always thought of as the dark twin of Abbey Road's "Her Majesty," "My Mummy's Dead," a short, incredibly painful statement of disbelief that his mother is dead and that he's experienced so much pain. It's a staggering finish to a staggering album, the finest work by any solo artist. If someone were to ask me why I love music, John Lennon/Plastic Ono Band would be the answer.
IMAGINE (1971)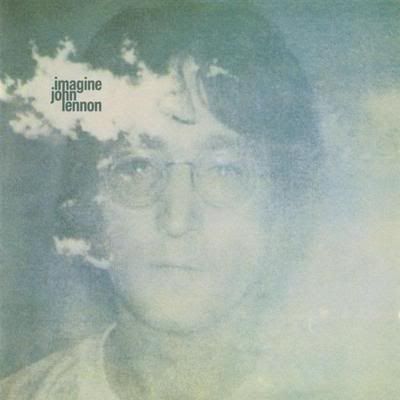 Imagine - 10
Crippled Inside - 10
Jealous Guy - 10
It's So Hard - 9
I Don't Wanna Be a Soldier - 8
Gimme Some Truth - 10
Oh My Love - 10
How Do You Sleep? - 10
How? - 9
Oh Yoko! - 10
OVERALL = 9.6/10
I could've sworn I'd read an interview with John where he criticized Imagine for being too syrupy and soft when it should have been as raw and naked as John Lennon/Plastic Ono Band. That wouldn't surprise me, as John was always very critical of his own work. But the closest I can find is his saying that "Imagine" the song is "anti-religious, anti-nationalistic, anti-conventional, anti-capitalistic, but because it's sugarcoated, it's accepted." Which is all very true. There are many people who sing along to the chorus and because it's so pretty, don't realize that it is asking them to give up their God, their country, their possessions. As John also said, the song is "virtually the Communist Manifesto"; no other artist could have recorded a song this anti-everything and have it revered as a universal anthem and played in baseball stadiums. It is possibly the crowning achievement of John's post-Beatles career, and certainly the most renowned. It is one of the few popular songs so beloved that it could bring together people of all cultures. Simply a beautiful, defining statement.
And hey, the rest of the album's pretty awesome too. For those Beatles fans who never warmed to Plastic Ono Band, it must have been a welcome return to form. Now, most of the songs are as complex as those on the first album, but Phil Spector--producing alongside John and Yoko--takes a more traditional tack, though since he's a genius, it's still brilliant. "Crippled Inside," with guest George Harrison on dobro, is a satirical country tune taking on racism and bigotry in insanely hummable fashion. "Jealous Guy" is the most tender song on the album, John's painfully apologetic voice swathed in Nicky Hopkins' piano. John was known for some chauvinistic and cruel behavior toward women before, and during, his relationship with Yoko, and here he pours every ounce of himself into the apology. "Oh My Love," co-written with Yoko and with another appearance by George (this time on guitar), ties "Jealous Guy" for the most effectively reflective song on the album. The lyrics are very simple, but incredibly moving in their simplicity: "I see the wind/Oh, I see the trees/Everything is clear in my heart."
The only songs that really sound angry this time out are "Gimme Some Truth" and "How Do You Sleep?" "Gimme Some Truth" is a blistering screed against lying, manipulative politicians. Coming during the latter years of the Vietnam War and right before the Watergate scandal, the song captured the feeling of the time. Harrison takes lead guitar, giving the best of his very fine contributions to Imagine. George also appears on "How Do You Sleep?," a much more controversial piece. It's a forebear of hip-hop's diss track, John directly referring to and spewing venom on Paul McCartney. John disses Sgt. Pepper, "Yesterday," Paul's hit single "Another Day," the list goes on. John later admitted that some lines, specifically "Jump when your mama tell you anything," were critical of his own life at the time, but the attacks on McCartney are impossible to miss and, yes, musically if not morally perfect. Still, though, it's not for queasy Beatles fans; Ringo stopped by the studio when it was being recorded and was so upset he remarked, "That's enough, John."
There are two songs on the album which could've benefited from Plastic Ono Band's cruder production. Lyrically, "It's So Hard" and "How?" are right in line with songs like "I Found Out" and "Hold On." The comparably lush production, though, kicks them down a notch. "It's So Hard" indulges a little in the saxophone that would soon become a big part of John's music, and adding strings on top of that, it feels a mite too laidback to deliver at full force despite a raunchy vocal. The contemplative nature of "How?" was obviously influenced by the primal scream therapy, but again, the strings--and the oddly echo-y drums--threaten to muffle its full impact. These are still great songs, however. The weakest track is "I Don't Wanna Be a Soldier," in which the echo and reverb are dialed up to 11 as John describes all the things he doesn't want to be: a soldier, a failure, a poor man, a rich man, etc. Again, this is in no way a bad song, but a little disappointing compared to the rest of the album.
Perhaps the greatest example of the difference between Imagine and Plastic Ono Band are their respective closing tracks. Plastic Ono Band ended with the chilling "My Mummy's Dead," while Imagine ends with "Oh Yoko!," a joyous ode to the other woman in his life. It is gorgeous, folksy, and full of life. It's a delight, sending the album off on the perfect jangly note.
SOME TIME IN NEW YORK CITY (1972)
Woman Is the Nigger of the World - 10
Sisters, O Sisters - 7
Attica State - 7
Born in a Prison - 8
New York City - 10
Sunday Bloody Sunday - 9
The Luck of the Irish - 8
John Sinclair - 7
Angela - 8
We're All Water - 7
OVERALL = 8.1/10
John Lennon/Plastic Ono Band and Imagine are the only universally acclaimed John Lennon albums, but all the same, Some Time in New York City often seems like the bastard child of his discography. His first proper studio collaboration with Yoko, it's a heavily political affair with direct references to figures and events, which was not only off-putting to listeners at the time but makes it seem dated to new ears. Nevertheless, this is a good album with some quality tunes, including the classics "Woman Is the Nigger of the World" (one of the few Lennon tunes which really makes mean use of the saxophone) and "New York City," one of the most rocking and entertaining musical tributes to that burgh. Some songs, like "Sisters, O Sisters" and "Attica State," are too simple for their own good, but remain perfectly listenable. Then there's a song like "John Sinclar," which would be great if it weren't for some flaw or other, like the interminable "got to got to got to got to" sections. Yoko's vocals are better than you'd expect given the traditional pop/rock format, but she would sound much better later on. That said, "Sunday Bloody Sunday" is a balls-out, take-no-prisoners slice of pure rock which perfectly incorporates Yoko's wild side. It's one of the more undervalued Lennon songs, just as Some Time in New York City is one of the more undervalued Lennon albums.